On the ground in Kashmir, feelings of loss, betrayal and helplessness as Srinagar remains in lockdown
Aug 8th, 2019 | Category:
Articles
Srinagar residents say they feel robbed by New Delhi's decision to revoke their Muslim-majority state's seven-decade-long autonomy
A communications blackout and curfew have left Kashmiris in disarray, fearing the Hindu nationalist government's next move
Fahad Shah
"You need to stay inside, don't come out!"The warnings are being bellowed at homes from large speakers mounted on jeeps in the streets of Srinagar, the summer capital of Indian-administered Kashmir [1], as the territory remains on lockdown. Residents of the besieged city say they feel lost and robbed of their rights after India [2]'s decision to revoke the local government's seven-decade-long autonomy [3]. Amid fears of unrest over the move, authorities have imposed a telecoms and media blackout along with a curfew. More than 38,000 troops have been deployed to the already heavily militarised state. Journalists have little means of travel or reporting, and Kashmiris outside the state say they have been unable to contact family and friends. But this reporter, who saved his article to a USB stick later brought out of the area, spoke to several residents on the ground, who called New Delhi's decision an attack on both their identity and property. "The Indian government is only worried about non-Kashmiri tourists and the students who are in Kashmir, but not the Kashmiris," said a man using the pseudonym Qurat Malik. He only disclosed that he was an employee of a major corporation. "They have deployed so many troops here only to make sure every one of their own people moves out [of the region] safely. This is unfair and shows the bias of India towards Kashmiris," he added.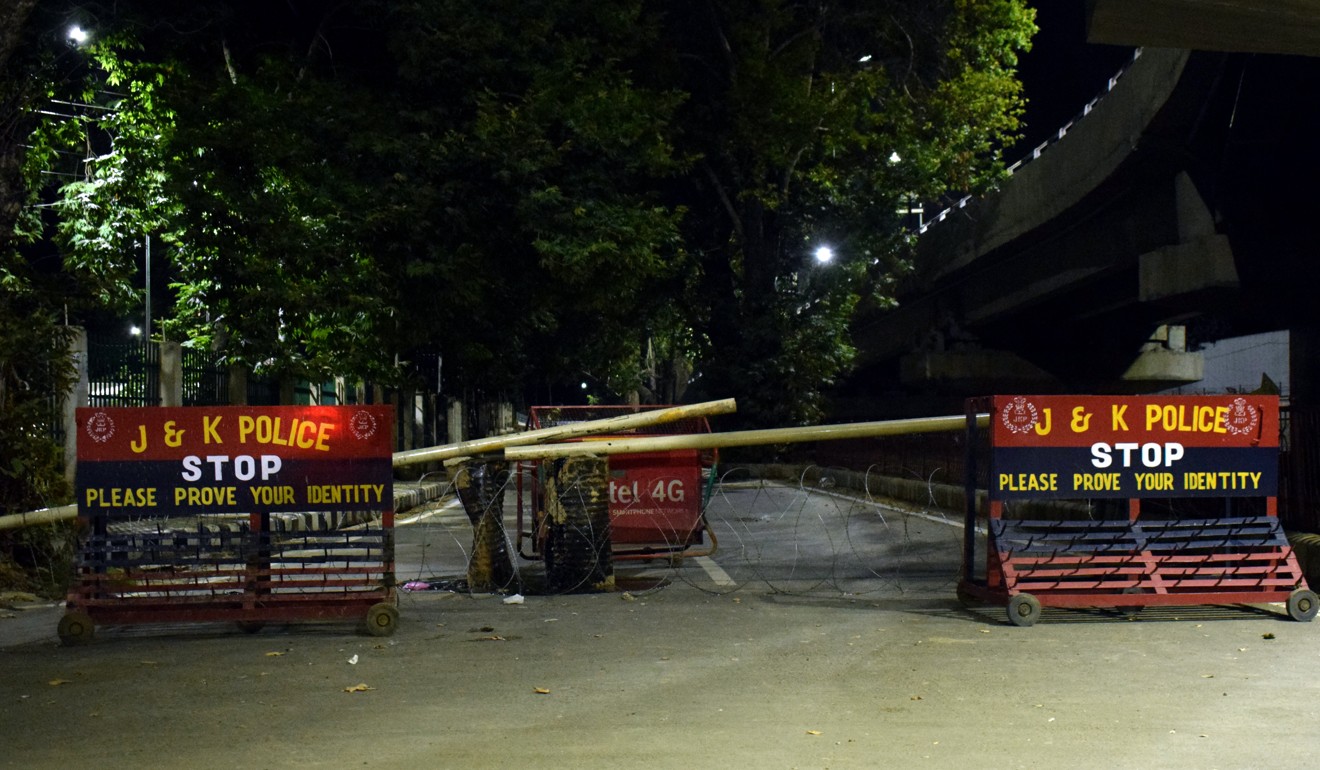 A barricade is seen near the offices of Radio Kashmir in Srinagar to seal the road to Gupkar, where many mainstream politicians live. Photo: Bhat Burhan "On top of that, they shout that Kashmir is an integral part of India."On Monday the country's ruling Bharatiya Janata Party (BJP), led by Prime Minister Narendra Modi [4], scrapped a constitutional act that assured partial autonomy for Jammu and Kashmir.The state is one of two that make up the disputed Himalayan region. Pakistan [5] controls the other, but both countries claim the area in its entirety. New Delhi has said it plans to divide its portion into two "union territories" – Jammu and Kashmir, and Ladakh – which would have less autonomy than states.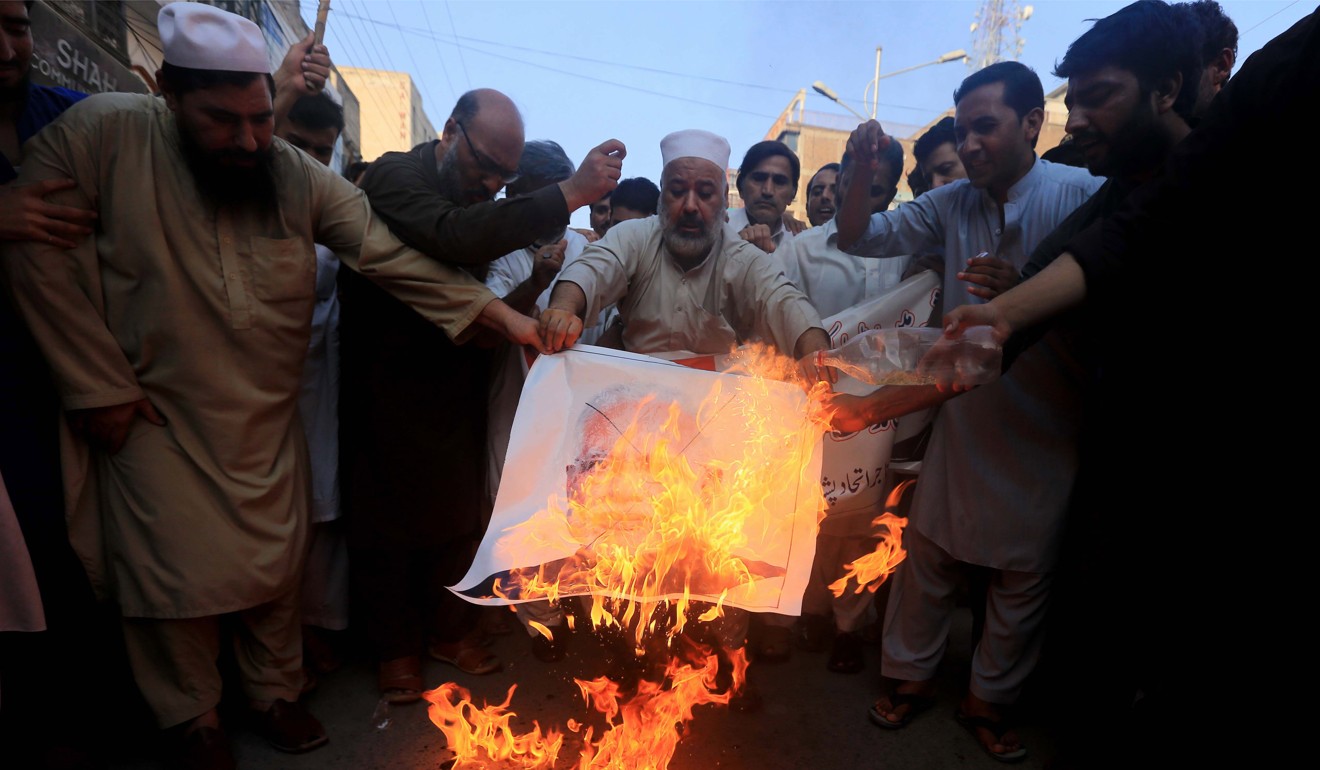 Pakistanis in Peshawar burn a poster of Indian Prime Minister Narendra Modi in protest at his government's decision on Kashmir. Photo: EPA-EFE The government has carried out a slew of arrests in an effort to prevent any unrest. Many of those detained are politicians who had assured Kashmiris that the two constitutional articles guaranteeing autonomy would be safeguarded. But Article 370 and 35A were consigned to the history books without consulting local lawmakers. Opponents fear the move will allow the Hindu nationalist government to alter the demography of the region by settling non-natives. They say such an influx would have a widespread impact on the cultural and ethnic identity of Jammu and Kashmir, which has a Muslim majority. Autonomy had given the state its own constitution, flag and lawmaking powers as well as rules over residency. But the territory, which is home to more than a million people, has been plagued by a three-decade separatist insurgency that has claimed thousands of lives. On Friday, tourists and pilgrims making an annual journey to the region's Amarnath Cave Temple were asked to "curtail their stay in the valley immediately and take necessary measures to return home as soon as possible". Officials said the advice was "in the interest of safety and security".
Migrant workers wait in line to inquire about transport out of Srinagar on Tuesday. Photo: Bhat Burhan Shashicharan Adhikari, a 50-year-old pilgrim from Dehradun in the state of Uttarakhand, said he had come from a base camp at Baltal, which is about 96km from Srinagar, before being forced to leave. "I left the cave and reached base camp, expecting a bus or cab to be available, but it has been days and there is nothing," he said. Kashmiris have been sharing feelings of loss and betrayal, with many saying India has pushed their home into a crisis. One of the first casualties of Delhi's decision has been non-native skilled workers, who visit Kashmir in summer in search of seasonal work. At midnight on Tuesday evening, hundreds were seen waiting in the courtyard outside the Amarnath Cave Temple's tourist reception centre for a bus or taxi out of the valley.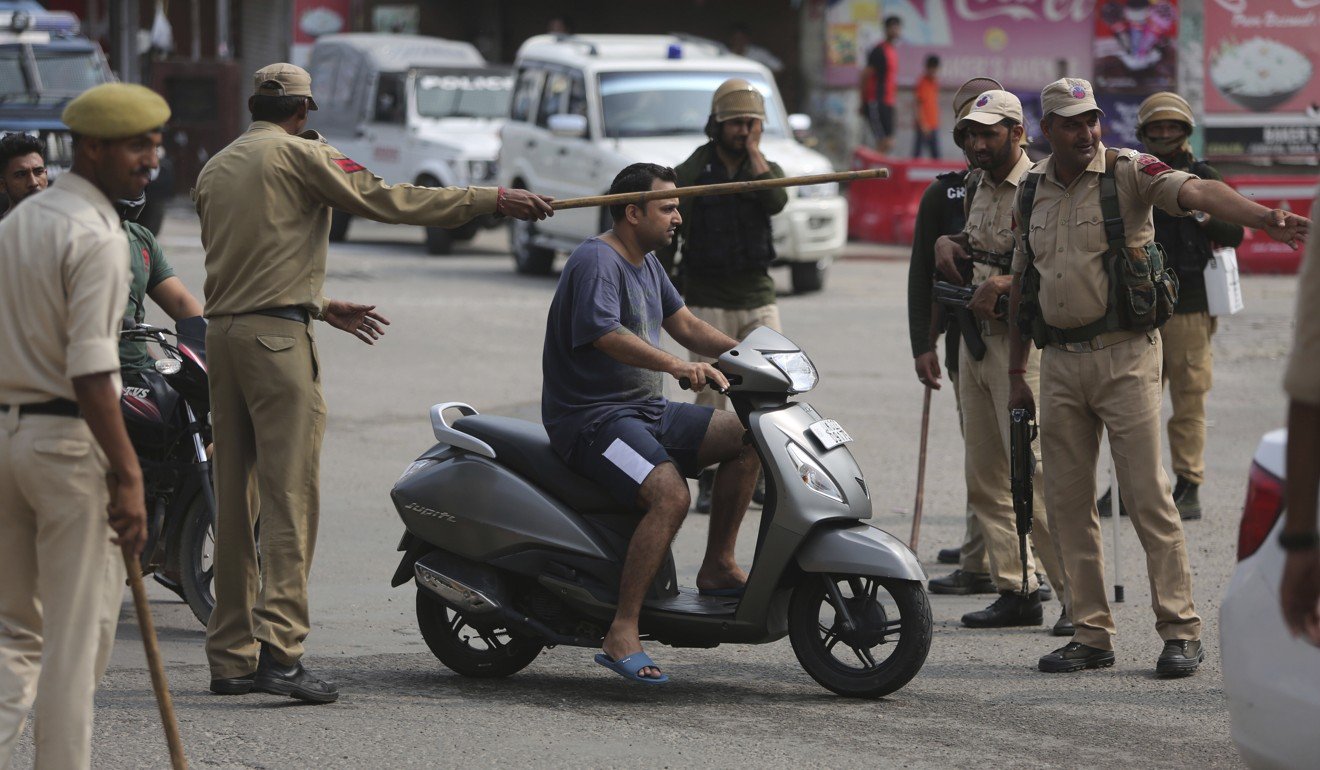 Indian police check the identity of commuters in Jammu on Tuesday. Photo: AP "I'm from Bihar and have been coming to Kashmir for the last three years," said 40-year-old Moin Ud Din. "They are saying the bus will come by 6am. There is no work here and Kashmiris are saying the situation will get tense. If we stay then what will we eat? If the shutdown continues then what is there for us to do?" Elsewhere, locals remain confined to their homes with no information. The lack of communications has meant Kashmiris outside the region relying on money from home, such as students, have been left high and dry. At hospitals there is unease among patients who have had no contact with their families. Barricades have been installed outside and visitors are being asked to show prescriptions to pass. A student at Sher-e-Kashmir University of Agricultural Sciences and Technology, who declined to disclose his name when approached on a street in uptown Srinagar, told the
Post
he was arriving home after two days with no word on his family.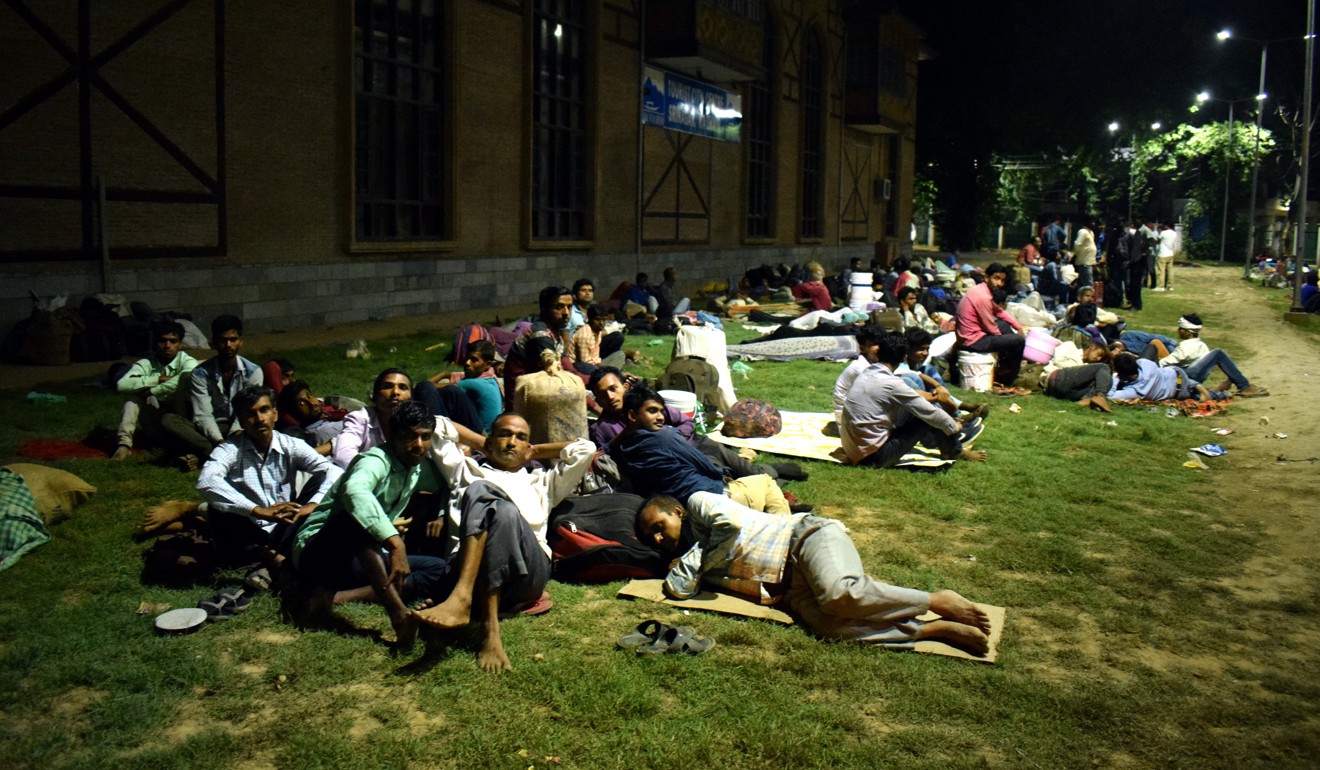 Visitors wait late into the night for transport out of Kashmir outside the Amarnath Cave Temple's tourist reception centre. Photo: Bhat Burhan "I was at my dormitory and we didn't expect the situation would get worse so rapidly. Today at dawn we left on a bus and were dropped at bus stops," he said. In Srinagar, debate corners have sprung up on the streets. The narrative surrounding the upheaval varies from person to person as residents share their apprehensions and hopes. Some believe the BJP will settle non-Muslims. Others blame the regional political parties, which they say have failed over many years to preserve and strengthen the state's special status. Jehangir Ahamd, 33, who runs a guest house in the city centre, said he believed India's decision was carefully planned. It would only mean the poor becoming poorer and the rich richer, he added. "The identity of Kashmir will die," he said. "They snatched our lands and voices – now there is no one out there to hear us. Kashmir doesn't see any other way but guns."
Connect with us on Twitter [9] and Facebook [10]Source URL:
https://scmp.com/week-asia/politics/article/3021843/ground-kashmir-feelings-loss-betrayal-and-helplessness-indian
Links
[1] https://www.scmp.com/topics/kashmir [2] https://www.scmp.com/topics/india [3] https://www.scmp.com/news/asia/south-asia/article/3021443/india-seeks-abolishes-kashmirs-special-status-constitution [4] https://www.scmp.com/topics/narendra-modi [5] https://www.scmp.com/topics/pakistan [6] https://www.scmp.com/news/asia/south-asia/article/3021443/india-seeks-abolishes-kashmirs-special-status-constitution [7] https://www.scmp.com/week-asia/opinion/article/3021525/indias-dispute-pakistan-over-jammu-kashmir-has-loser-new-delhis [8] https://www.scmp.com/news/asia/south-asia/article/3021564/pakistan-condemns-indias-move-abolish-kashmirs-special-status [9] https://twitter.com/SCMPAsia [10] https://www.facebook.com/twiaThis article appeared in the South China Morning Post print edition as: Feelings of Loss, betrayal and helplessness for residents in Srinagar
Kashmir Pellet Victims – I want my eyes back
Kashmir Solidarity Day