After Shahid Afridi, American Comedian Gets Trolled for His Tweet on Kashmir
Apr 11th, 2018 | Category:
Articles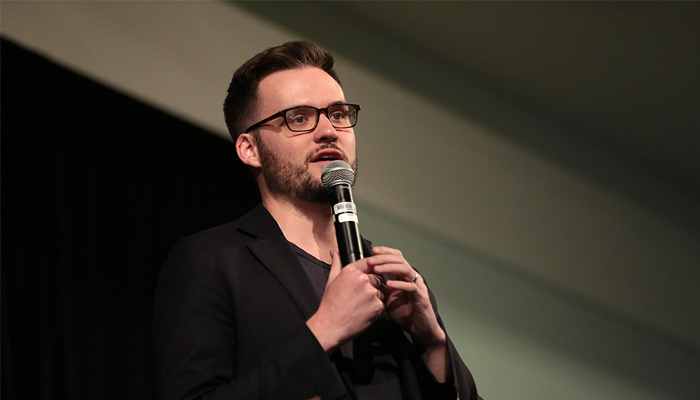 It's not surprising anymore when a tweet on Kashmir will almost always mean falling into the trolls' net.
Just days after Pakistani cricketer Shahid Afridi faced the wrath of Indian cricketers and others when he tweeted on the 'bloodshed' in Kashmir, an American stand-up comedian became Twitter's favourite hit spot.
Comedian Jeremy McLellan was recently the victim of heavy social media trolling after he came out in support of Kashmir on Twitter. On 6 April, on the occasion of 'Kashmir Solidarity Day', the comedian posted the following message on Twitter:
Today is #KashmirSolidarityDay in support of occupied Kashmir against Indian state terrorism. Students in Srinagar are brutalized for protesting the recent killings. Whether Palestine, Syria, Burma, Kashmir, or anywhere else, people have a right to be free from state tyranny. pic.twitter.com/1lZM9D30Nb

— Jeremy McLellan (@JeremyMcLellan) April 6, 2018
Since then, it has been a 'wild ride' for the comedian. "I've received hundreds of comments and messages from Indians accusing me of supporting terrorism and being paid by the ISI since I posted my tweet," Jeremy told News18. Following his tweets on Kashmir, the comedian has been trolled as an 'ISI agent', a 'creepy white dog' and many other such monikers.
Please tell the ISI my check is late pic.twitter.com/lqpWY7Lr4O

— Jeremy McLellan (@JeremyMcLellan) April 8, 2018
Sample some of the trolling that the comedian shared on his Twitter account:
Creepy White Dog is my rapper name pic.twitter.com/EbJhAJFvNw

— Jeremy McLellan (@JeremyMcLellan) April 9, 2018
"This sort of stuff happens a lot. Anything related to Palestine or Myanmar gets a lot of hate. But that's expected. I think this was my first tweet on the Kashmiri issue. Within hours I started receiving unprecedented hate from Indians on Twitter," Jeremy, who is actively vocal on Twitter regarding his views on various issues of human rights violations across the world, said.
But how does he deal with so much hate on a regular basis? "None of it bothers me. Trolling comes as a part of being on social media. But I am pretty shocked at all the backlash to one post," the comedian said.
However, this is not the first time that the stand-up comic from Charleston, South Carolina, has been accused of being overtly pally with Pakistan. Claiming himself to be a 'Christian who understands and respects Islam,' McLellan has been popular in Pakistan for his anti-Islamophobic commentaries, criticism of American politics, immigration policies and race hate.
The comedian toured Pakistan in August last year and performed to packed audiences. His popularity in Pakistan can easily be fathomed from the adulation endowed on him by Pakistani media and he himself has been vocal about his love for Pakistani food such as 'biriyani', Pakistani culture and people. His twitter bio describes him as the 'US ambassador to the Pindi Boys', a reference to Pakistan where he has also been involved in humanitarian interventions in the past year.
His social media profiles are full of pictures and anecdotes about the wonderful time he had in the country.
However, he came out strongly on Twitter against Indians accusing him of being paid by Pakistan for tweeting on Kashmir:
Responding to allegations about being an ISI agent on Pakistan's payroll, the comedian remarked in his characteristic wit, "I wish I was paid by the ISI, but sadly they haven't responded to my invoices."
The comedian has formerly been referred to as an 'Islamophile' for coming out in support of Muslims across the world.
"I've always been interested in religion, religion in public life, and how spirituality affects people and their approach to politics. And I've always talked about social issues, but in the past year, a lot of stuff I was saying started going viral among Muslims," VICE reported the comedian as saying in an interview in 2017.
McLellan is a stand-up comedian based out of Charleston, in US's South Carolina. He was recently named as one of the "New Faces of Comedy" by 'Just For Laughs', one of the largest international comedy festivals in the world. He frequently performs in Muslim festivals across North America.
As per Pakistani media reports, on April 6, the day McLellan tweeted about Kashmir, 'free Kashmir' celebrations were taking place across Pakistan as well in parts of Pakistan Occupied Kashmir as part of Kashmir Solidarity Day
When asked about his views on the Kashmir crisis, the comedian told News18, "I'm not an expert, just a comedian. But I think Kashmiris should be able to decide what they want without being mistreated."
Kashmir Pellet Victims – I want my eyes back
Kashmir Solidarity Day